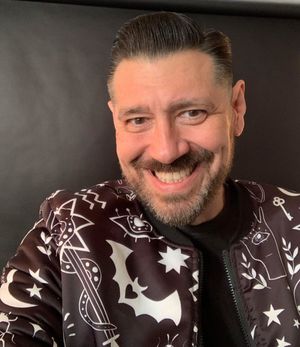 01/04/2021 
Hi! Another month has gone by and our hope for better musical times is on the rise! 
In preparation for mixing our new as yet untitled album we have been very busy these past weeks trying a few tricks re-mixing and mastering our last album 'Gravitate' with which we are very happy with the result and we hope you get a chance listen to it with the volume up!! (As you are reading this it is impatiently waiting to your left). 
Last week we had the great pleasure to collaborate with Ian Cook from Blackthorn Studio, filming and recording a live performance of the song 'She Runs with the Wolves'. 
This song has a long story! In its basic shape and form it was written way back in the summer of 2014. Matt wrote the initial lyrics and acoustic idea whilst we were staying in an isolated spot in the mountains in Aragon, Spain. Then not long after we decided to walk the Camino de Santiago across Spain. The 750 kilometre walk gave us plenty of time & I have the memory of walking under the sun, surrounded by the mountains, and only seeing a dirt path in front of us, singing the melody a cappella trying different harmony ideas. This seed evolved to what you will hear very soon. The beats were created in Portugal, in our sabbatic pre-pandemic period, and the final shape and Tap dance steps were written in England last year. So we are very happy to release it as a performance video! 
Something else new, is that on the 21st of May we have a GIG at Hotbox in Chelmsford!!! It was going to be live streamed, but we just received the amazing news that the venue will be opening for half of the capacity of people. We've been so detached from live music it sounds like dream come true! These past months we have been working on some new songs, one of them, 'Everybody Move' will be performed in the show. The seed of this song was created in Tenerife last winter, and has taken shape these past months in England. On top of that, we are extremely excited to announce that this gig will be shared with our new bassist's in some songs. Doug Segal (pic inserted) has joined 'Kid Hyena' as a guest bassist. A musician with a very interesting background, you may have heard of him or even seen him performing his live mind-reading acts at the Edinburgh Festival Fringe or somewhere across the UK supporting amongst others Eddie Izzard. 
Don't forget to subscribe to 'Planet Road Records' to have unlimited access to all our music and videos. These pandemic times have made us look more deeply at how we distribute our music and this new label is our way of taking a more sustainable approach whilst also providing a better and more personalised platform for our fans. 
After a few months now of being up and running we are closing in on 250 subscribers, when we hit 250 we will send a 'Gravitate' t-shirt to one lucky subscriber. 
...& For some light relief during the pandemic. We have created a new superhero for our times - go take a look at our 'Caped Music' Series on the Soapbox 21 blog. 
Stay Tuned! Stay positive! 
Kid Hyena