Creating Positive Change through music
Music is and will always be a positive catalyst for social change. Yet sadly due to lack of access to a creative space, guidance and resources, many young people do not get a chance to begin their journey of discovery with it.
With our KABOOM workshop programme we seek to reach out to those who don't normally have a platform for the development of their creativity beyond the realm of school, and provide an engaging and elevatory experience which can be a springboard for improved mental health, perspective and creative outlook.
We are Kid Hyena (Matt & Maria) a husband & wife acoustic duo formed in Barcelona now based in the UK.
Our vibrant live show and workshop programme contain fresh and fiery musical flavours fused together with Body Percussion, Tap Dance, Acoustic Songs & an Interactive Experience where EVERYBODY becomes the song!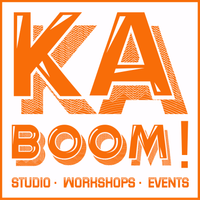 As teachers, workshop facilitators and educators we have a combined experience of over 30 years working in schools, music & arts camps, music programmes and festivals.
Our KABOOM workshop programme brings together our vast knowledge with the aim of providing a fun and positive learning experience for all participants.
Previous Clients Include: Vision Norfolk, Norwich International Youth Project, The Collective Sound, Baker Street International, One World Festival, Sussex Community Development Association, Krunch Youth Services & Many More!
KABOOM WORKSHOP OPTIONS FOR SCHOOLS & YOUTH ORGANISATIONS
KABOOM workshops have been designed through many years of experience in the field. 
They focus on skill building, empowerment, creativity, self-discovery, confidence and group co-operation through an expressive, non judgemental and friendly environment.
No previous experience or musical knowledge are needed & are suitable for mixed age groups or specific age groups.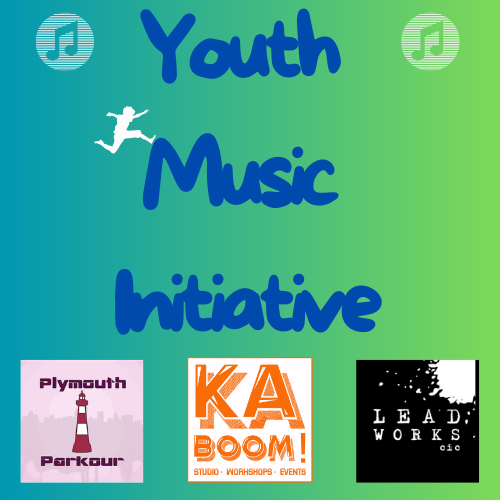 1. PARKOUR & YOUTH MUSIC INITIATIVE
This is an innovative activity delivered alongside Plymouth Parkour over a ten week course. The first five weeks are dedicated to to learning and practicing Parkour. Weeks 6 to 10 involve the children creating a sound track to their Parkour experience in the Kaboom Studio. More information by request.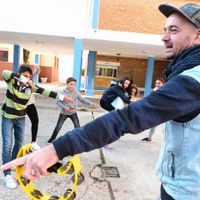 2. EXPRESS YOURSELF
Express Yourself is a lively, energetic and thought provoking combination of singing, movement, improvisation and action games. The emphasis is firmly based on self–discovery through play and letting go! This is an ideal workshop to bring people from any background and age together to aid the breaking down of barriers, judgement and distance.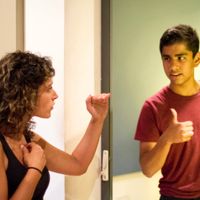 3. SiNG UP
Sing Up is an innovative and dynamic vocal workshop that centres around building confidence and singing ability through self-expression.
Using a variety of techniques, games, vocal jams and songs based on improvisation, Matt & Maria are able to coax even the most shyest of individuals into singing.
This fun & unique approach guarantees a new experience and it is a great way to ignite or relight the fire of the singing voice.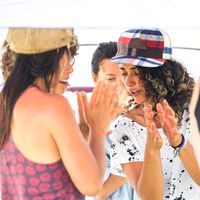 4. BODY BEATS
This workshop will explore patterns and techniques of body rhythm through coordination, beats & dance routines.
Our leading principle is 'We all have a heartbeat, we all have rhythm' and the workshop demonstrates that the body can provide a myriad of sounds including stomps, claps, clicks, pops & more that can be harnessed to create rhythmic group music.
The dynamic beats and vibrant sounds help to teach rhythm, listening, group cooperation and confidence building skills.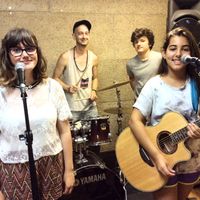 5. SONGWRITING   
We believe everybody has a song inside them and this workshop is designed to coax one out of an individual or group.
The workshop explores song, rhythm, musical expression and lyric writing giving the participants an opportunity to work and create music together. Guided by us, the group will work with the voice, instruments, beat making software and other musical skills​ towards the completion of the song.​
The emphasis is placed on teamwork and creativity giving all the space to express themselves. If participants do play an instrument, they are welcome to bring it along.

*An extension of this workshop involves the recording of the song with an accompanying video.
*Venue Size:
Depends on size of the group. For a good creative energy a minimum of 10 people is desirable.
People will need space to move.
*Duration:
We can tailor the duration of the workshop to your needs.
From 1 hour, 3 hours, one day or a whole weekend. The choice is yours.

*Price:
The fee is negotiable.

*Unsure what is best for your group? Just get in touch and we will gladly help you.
Please note all adults involved in project listed above hold a valid DBS and both Kaboom & Plymouth Parkour have the relevant health & safety and safeguarding policies in place.
The above video demonstrates what is possible with a lyric writing, songwriting & video making session. The children in the video are aged between 8 & 15 years old but the workshop is adaptable to any age group.